Students can grow through classroom enrichment, camps, and after school competitive leagues.

Our comprehensive program is designed by educators to fit inside any school classroom or gymnasium. The programs combines modern aviation career and technical skills training with the benefits of team athletics. Students will not age out of Drone Soccer and can progress to competitive gameplay, custom design and fabrication, and larger drone classes at the collegiate level, even representing their country on Team USA.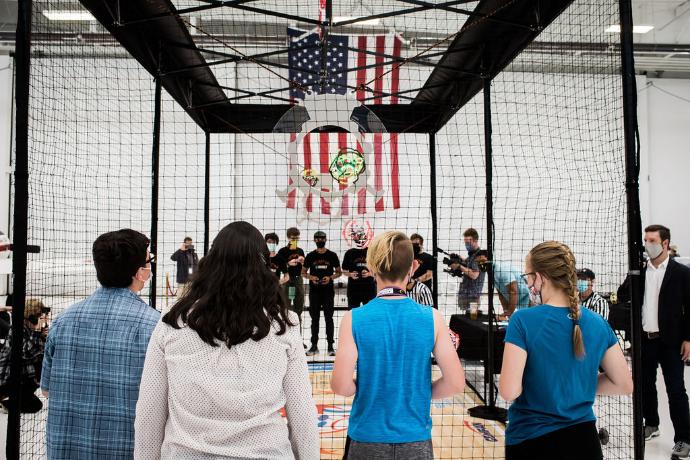 STEM/CTE CLASSROOM ENRICHMENT
We offer complete standards-aligned lesson plans and professional development training for educators with ongoing support from certified drone instructors. No prior drone experience required!
SUMMER CAMPS AND INTRAMURAL
Affordable practice arenas allow several classrooms or groups to learn drone fundamentals and play against each other in scrimmages or in-house leagues. Engaging for 8th grade through college programs.
AFTER SCHOOL COMPETITIVE
E-SPORTS
The best part about Drone Soccer is playing head-to-head in full-contact matches against nearby schools. With low-cost registration, students launch their pilot careers in leagues with the benefits of traditional athletics.
REGIONAL AND NATIONAL TOURNAMENTS
Teams can rise through the rankings at city, state, national and international tournaments. Every registered team competing in U.S. Drone Soccer has a route to represent their country at the World Cup.