Program Benefits
Did you know that at age 16, students can become a FAA-licensed Remote Pilot and earn a starting wage of $50 per hour?
Gamifying Career Skills
Drone Soccer is an exciting team sport for students, but it is most importantly career skills training and workforce development! Participation in Drone Soccer open doors into high-paying careers in aviation such as drone operations, engineering, aircraft repair, air traffic control, and traditional pilot training. We want to provide a lifelong passion for flight and create real opportunity for young people regardless of their economic status.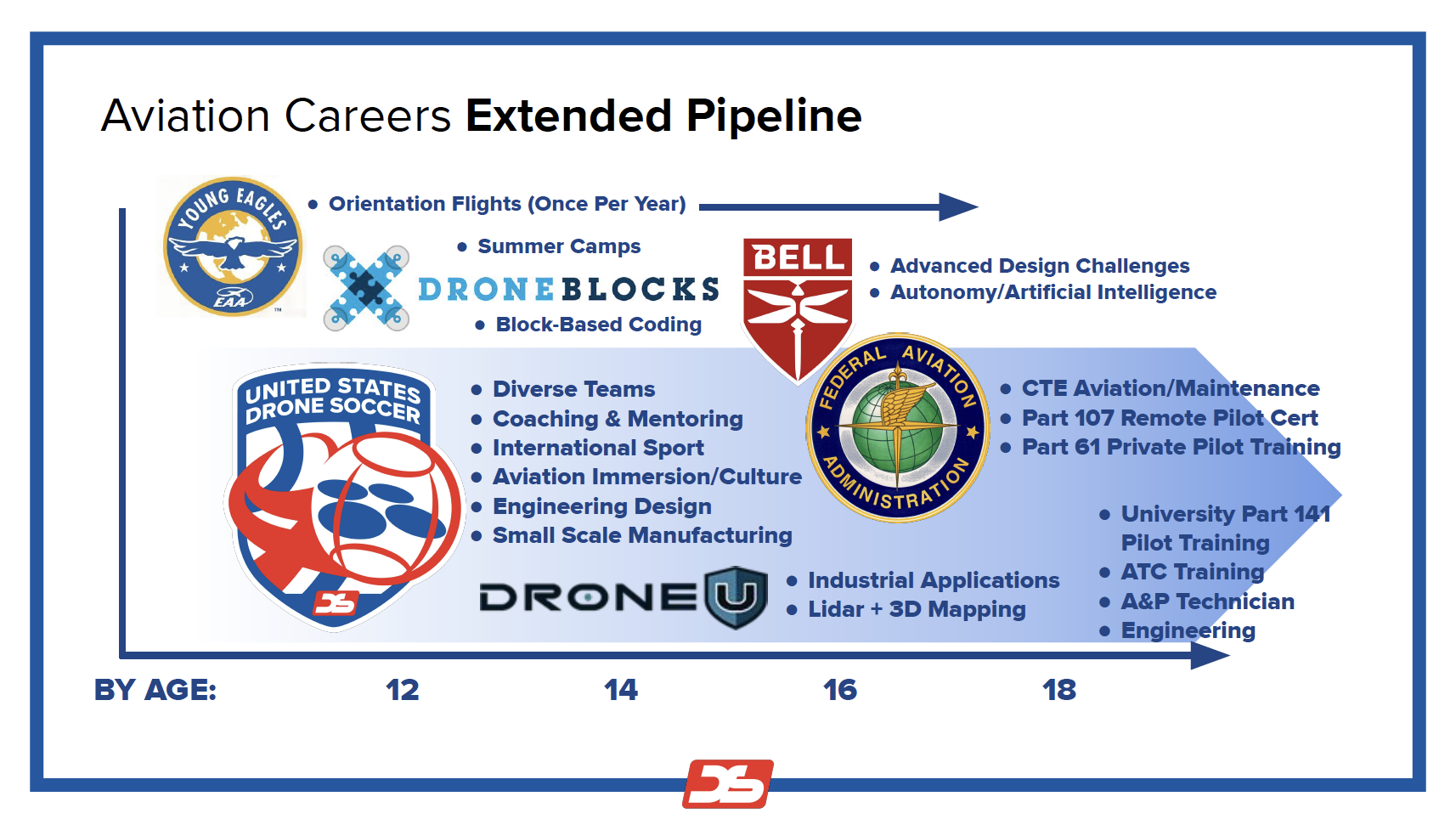 A Comprehensive Program for Ages 12-18+

We are committed to providing comprehensive support from equipment, to educator training, curriculum resources, and league management software. A majority of our programs are funded by Career and Technical Education (CTE) and workforce development, and can be implemented during Science, Technology, Engineering, and Math (STEM) classroom lessons, as well as extracurricular camps and clubs.


FAA-Recommended to Improve STEM Equity
Today, the aviation industry remains male-dominated accounting for 95% of all technical careers. The FAA Advanced Aviation Advisory Committee specifically recommends our program to address gender bias in STEM fields (published in Feb, 2022). We prioritize accessibility for underserved students, and all teams must be co-ed according to our Code of Conduct.
Safe Operations
All flight happens indoors within a protective netted enclosure known as a Drone Soccer "Arena"
FAA TRUST
All students earn The FAA Recreational UAS Safety Test (TRUST) to promote public awareness of airspace laws.
Industry Applications
Students must build, program, and fly using professional-grade, open-source drone technology with direct industry applications.
International Sport
Drone Soccer is the robotic robotic competition that is also a team sport governed by the World Air Sports Federation (FAI).
Team Building
Every student is fully engaged in an exciting team environment where they can specialize in industry skills.
Aviation Immersion
We introduce all students to the vocabulary and culture of safety for future flying careers.
Getting Started


Onboarding and Implementation
Schools and districts have an easy onboarding process for administrators through our business to business (B2B) Portal. All requests are reviewed within 1-3 business days and you will be provided information and direct support from our team.
For all other nonprofit and for-profit organizations, we understand that building a youth program takes time. Our staff and network of partner organizations will support you along the way to establish a sustainable outreach program, including fundraising and grant assistance. We recommend you plan 45 days between initial purchase and student programs to allow for staff training and familiarization.

Industrial Drone Training for Educators
U.S. Drone Soccer provides Professional Development training and certification that combines best practices from both the aerospace industry and youth athletics. But we also partner with industry leaders to offer advanced courses including FAA Part 107 Remote Pilot Certificate course and test-prep, flight operations, rapid orthomosaics (Pix4D), comprehensive aerial photography, construction surveying, commercial roof inspections, cell tower inspections, and 3D mapping.
The best PD training I have ever attended. They offer phenomenal support for teachers and students who are new to Drone Soccer.
The knowledge base that the Drone Soccer program provides students for their future is truly inspiring.
Tailored Community Outreach
Whether you want to implement in the classroom, extracurricular club, weekend or summer camp, precollegiate engagement, or community outreach - we have templates for success for you to follow. From a single parent-led after school team all the way to a district-wide league for a dozen schools, we can help you build sustainable community support. This includes assisting with grant writing and joining meetings with district and local leaders.
Launching Local Programs
Once your staff is trained with demonstration equipment, we will support you in launching your local league events. We recommend running a short camp program (10-20 students, 12-16 hours of engagement) and using these students as your demo pilots. With something new like Drone Soccer, seeing it in person is important and we recommend a public demo for civic leaders, district superintendents, CTE directors, and community sponsor companies.
Classroom Requirements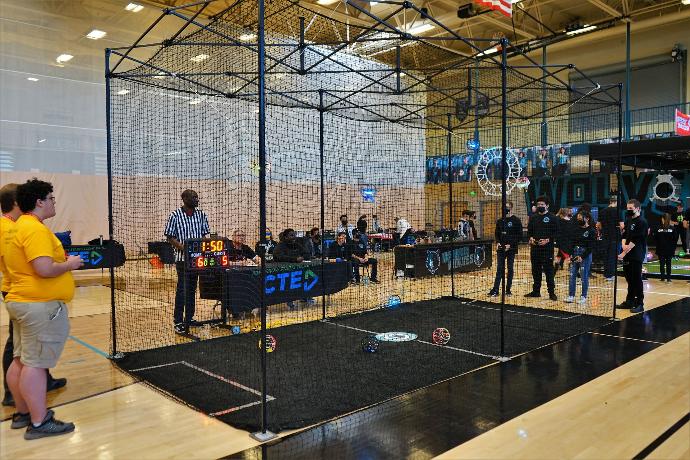 Lightweight Practice Arena (Left) and Pro Arena (Right)
Indoor Arena Space
All flight operations must take place within a netted enclosure for safety and FAA compliance. Operations within a netted arena are exempt from FAA regulations and do not require certifications for participants or registration of aircraft. Minimum recommended floor area is 30x40ft with 12ft ceiling height. Arenas are collapsible and take 15 minutes (Practice Arena) and 30 minutes (Pro Arena) to set up. For tournaments, additional tables for teams, referees, and a charging station are recommended. Neither scoreboards or illuminated goals are included in our bundles.
Free Software
Free third-party software is required for the use of our products and participation in our program.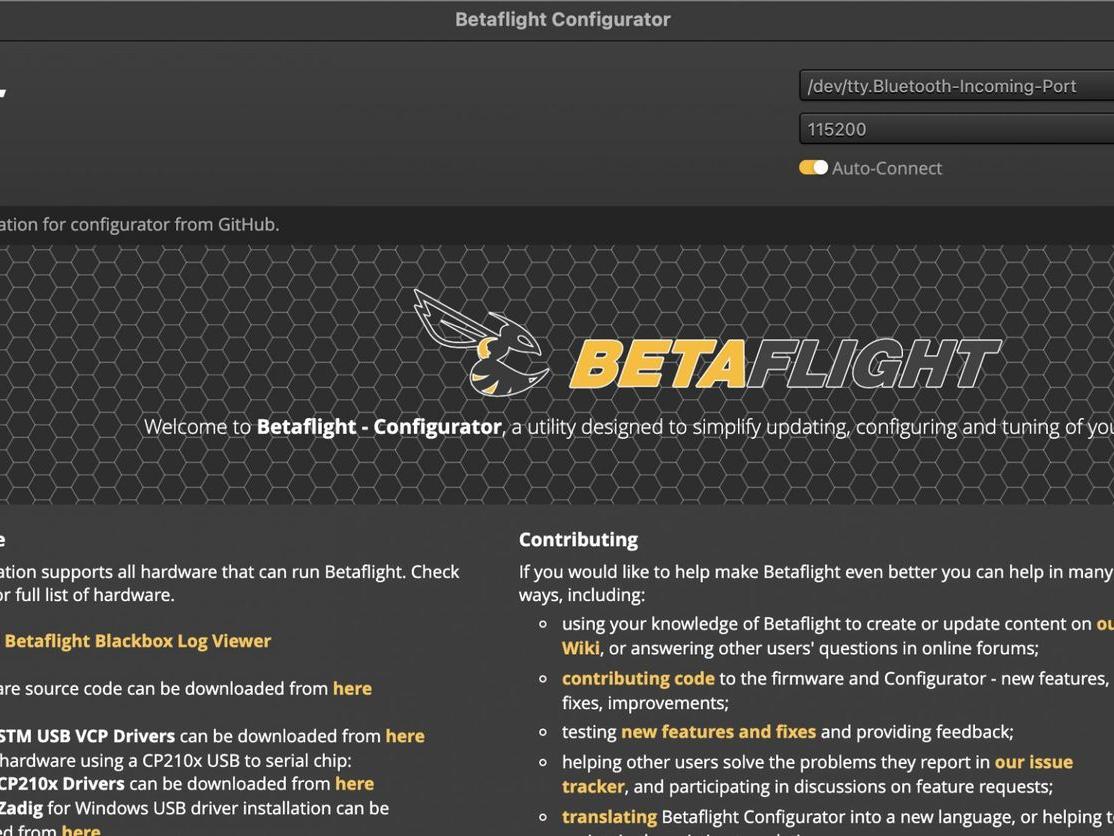 Betaflight
Betaflight Configurator 10.8 is a free, community-developed open-source flight controller Graphical User Interface (GUI) tool which allows users to adjust the flight dynamics and troubleshoot drone settings.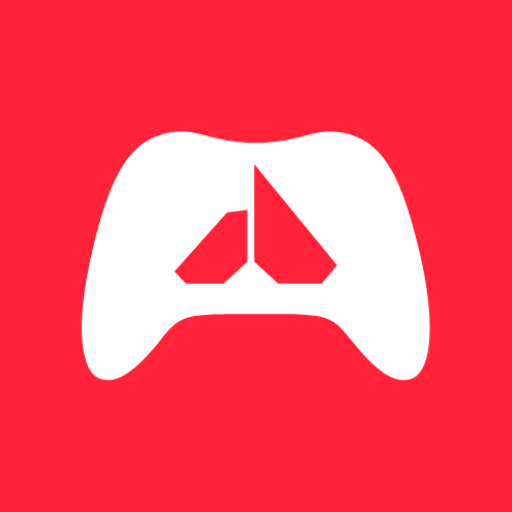 FPV.Ctrl App
Use of this mobile app is required to modify and connect the radio controller. The Orqa FPV.Ctrl mobile app is free and available on the Apple App Store and Google Play.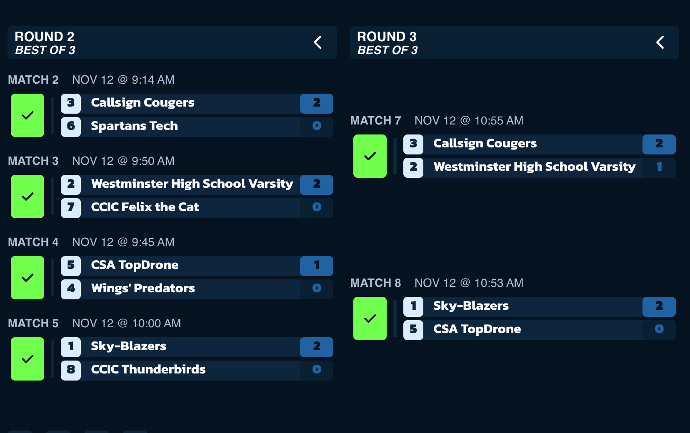 LeagueOS
LeagueOS is used for all U.S. Drone Soccer and International Drone Soccer team registration, rosters, and competitions. Parents may create accounts for their students (only email and age are required), or educators may create detached accounts where no data is collected.

Drone Equipment
Durable & Reparable Hardware
Our drones are designed for full-contact gameplay and are as tough as we could make them. Every drone is made from professional-grade modular components that can be completely disassembled and rebuilt for the duration of the program. Your products will always be compatible with future products and you can upgrade or replace individual components easily from our online replacement store.
All-Inclusive Classroom Bundles
We included everything necessary to support a classroom over a season. This includes a netted drone "arena" enclosure, an educational license with access to support videos and materials, and drone equipment bundles that come with six to twelve individual kits. Each individual learn kit includes: a disassembled Drone Soccer Ball, radio controller and receiver, 3x 650mAh LiPo batteries, fire-proof battery storage bag, Drone Soccer toolkit, safety glasses, and a spare parts kit including exoskeleton frames and propellers.
League Participation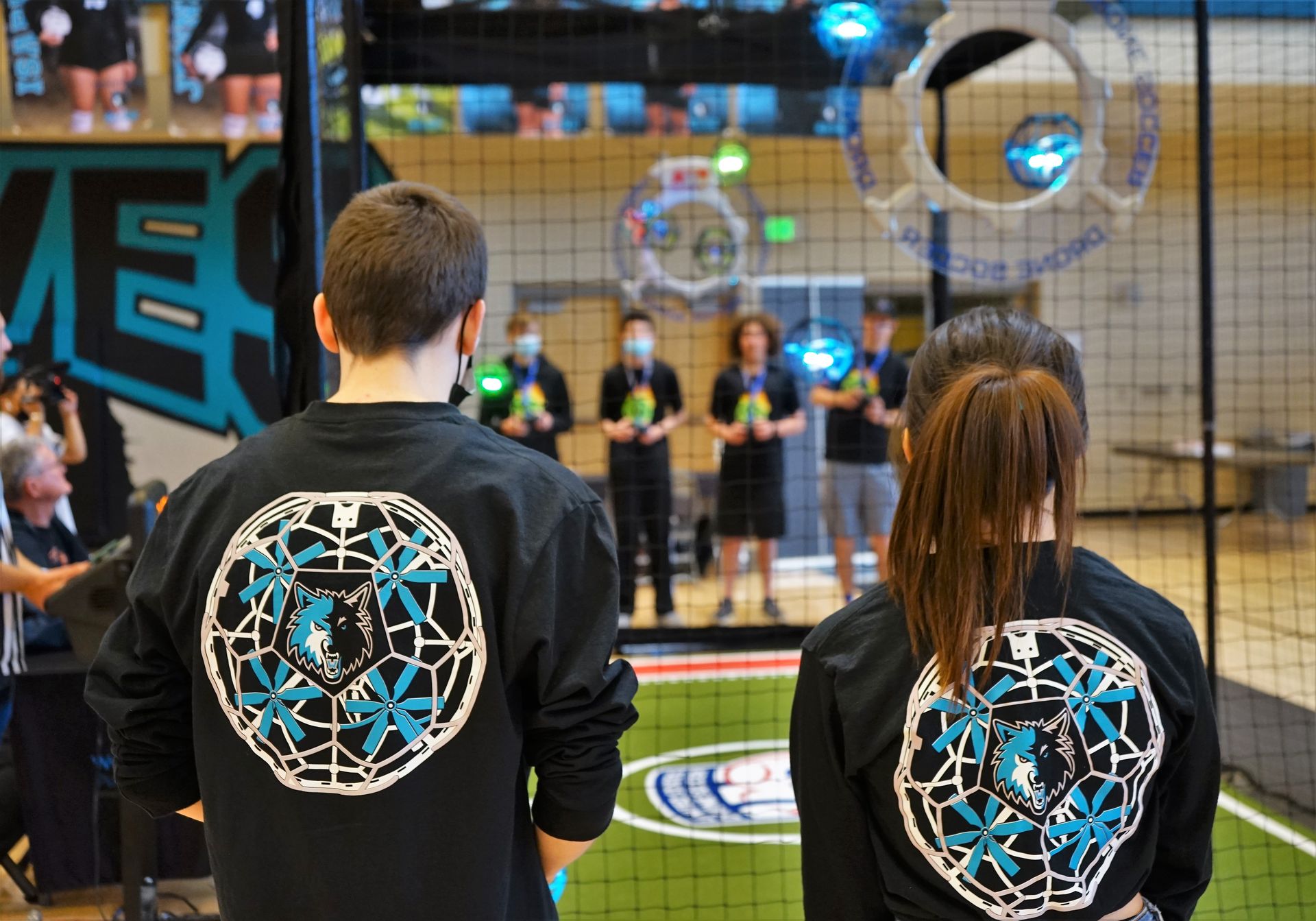 Path to the World Cup
All students competing today have a real path to playing for the U.S. Drone Soccer National Team and representing our country at international events including the FAI World Cup.

Complete League Management System
Team registration, rosters, calendaring, and results are provided in partnership with a new e-sports platform, LeagueOS, which boasts market-leading privacy protection for scholastic programs. LeagueOS provides an all-in-one competition management and scorekeeping system that can run entire events from a single laptop. All programs and students can utilize a free membership for all practice and scrimmage events.

Low Ongoing Costs
For teams wishing to compete in an extramural season including city, state, regional, and national tournaments - online registration is quick and easy. Annual team registration includes coach recertification for $150, and each active player is only $35. Registering a full team of ten players is a maximum of $500 for a season. With low upkeep for propellers and batteries, ongoing costs are a fraction of upkeep for similar robotics programs.